Brands that understand the value of loyalty
and the power of engagement to increase it
We're proud to power engagement & loyalty for the world's top brands. Here are some select customer case studies.
Marriott
Marriott uses Chirpify to connect social and mobile actions to their Marriott Rewards® program, enabling members to earn Marriott Rewards points while spreading brand content. The extension of Marriott Rewards into social and mobile enables Marriott to learn more about their most active consumers and acquire new members, all while increasing member loyalty by rewarding them for their everyday social behavior.
Through travel, Marriott Rewards members pursue their passions sharing their experiences via social media along the way. With Chirpify's Reply Rewards platform we're able to surprise and delight our members at scale, while personally recognizing and interacting with them in real-time. This furthers our belief that loyalty is a two-way street. Plus, the platform gives members another easy way to earn Marriott Rewards points, keeping them engaged with the program in between stays.
Amanda Moore, Senior Director, Social and Digital Marketing Loyalty at Marriott International
Columbia Sportswear
Columbia uses Chirpify to extend Columbia's Greater Rewards Loyalty Program, enabling their members to earn Greater Rewards Points for sharing product promotions, brand content, and to activate brand campaigns along their campaign calendar. By enabling their Greater Rewards members to use social media as a remote control to earn rewards they've increased their active user base, driving significant spend increases.
People love to talk about our products and showcase how they are using them. The partnership with Chirpify embraces and extends this love of the product in a way that rewards users for sharing, enabling Greater Rewards members to earn points and other rewards for sharing products, promotions, and brand content.
Lindsay McCann, Marketing Manager, Columbia Sportswear
La Quinta
La Quinta uses Chirpify to extend their LQ Returns program by enabling members to earn additional rewards for engaging with the brand on social channels. Members who connect link their social accounts to their LQ Returns account can be instantly recognized and rewarded for brand advocacy, engaging with brand campaigns and sharing their on-property experiences.
Togo's Sandwiches
Togos uses Chirpify to extend the Togo's Tribe Loyalty Program, enabling their members to earn Tribe Points for sharing product promotions, brand content, and to activate brand campaigns along their campaign calendar.
Our customers are increasingly active in social media and looking to engage there with us. Extending our loyalty program to social media doubles-down on our ability to engage with our most loyal customers when, where, and how they like. With the introduction of social loyalty, we are growing our relevance, creating a virtuous cycle of acquisition, engagement, and data collection that allows us to continually personalize offers for greater impact to the guest and the business.
Jessica Miller, Brand Manager, Digital Marketing & Communications
1-800 Flowers
1-800 Flowers and Cheryl's use Chirpify to power social engagement for their Celebrations Rewards program. Celebrations Rewards members can now earn points for linking social accounts, following brand accounts and posting photos and hashtags on Instagram and Twitter. Points earned for social actions turn into $20 Savings Passes, which can be redeemed towards purchases across their family of brands.
Adidas
Adidas uses Chirpify for in-stream social commerce, as well as marketing conversion, in-store and online, making purchases for consumers as easy as posting a hashtag. Connecting omni-channel advertising to frictionless one-step payments and commerce across Instagram, Twitter and Facebook increases customer loyalty, and their bottom line.
Chirpify enables adidas to engage our customers in fundamentally new ways, leveraging social media as the point of conversion. They've allowed us to drive more value – and revenue – from our brand marketing efforts.
Jeremy Darlow, Sr. Brand Manager, Adidas
Univision
Univision uses Chirpify for geo-fencing and responding to consumers in their native language, regardless of what it may be – from Spanish to Chinese, Arabic to French. Chirpify, as always, listens in the background for social triggers that when activated, prompts an automated, rules-based response. Being able to respond to consumers instantly in the moment in the right language has helped Univision and it's brand partners engage at scale.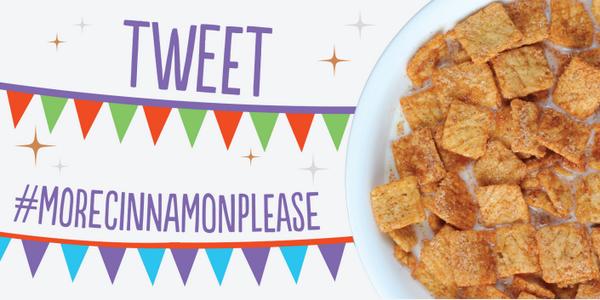 General Mills
General Mills uses Chirpify across their portfolio of brands to sample cereal & drive social loyalty. By sampling over social General Mills can get products in the right hands, while garnering billions of earned media impressions in the process. Social sampling is more qualified, and more powerful than traditional methods of consumer sampling.