Social Sampling
Earned media, increased engagement, and more followers, in exchange for your product
Request Demo
White Paper
How It Works
Call to action on any channel
Oreo CTA on any channel
Post
#SendMeOreo
to try the new flavors for free!
Claire via
Mmm new Oreos! I've been waiting for these. Please
#SendMeOreo
!
Oreo via or
Claire, thanks for your post! Your delicious Oreos are on their way!
Repeat sampler's
transactions happen instantly in Twitter, Instagram, or Facebook without any other steps
, and email and social receipts are sent automatically. First timers get an automated @reply from the brand to provide shipping info and claim.
Case Studies
Oreo
OREO launched a product social sampling campaign by featuring an #actiontag on TV during the Grammys.
Earned Media

The campaign drove up to 5,000 tweets per hour, catapulting the campaign to become a nationally-trending Twitter topic.

Increased Followers

@Oreo gained over 15k new followers in 12 hours with Chirpify – they normally average 1K in a day.

Trending

#SendMeOreo accounted for 5.3% of the total Grammy impressions on Twitter.

Volume

Social product sampling program delivered 20,000 boxes to engaged social customers. (Oreo limited the quantity to 20K).
Secret
Secret used Chirpify for a social sampling campaign- getting their new Secret Clinical Strength deodorant into the hands of busy, social moms.
Earned Media

Created over 400K earned media impressions.

Viral

reached over 380k Twitter accounts.

Volume

Exhausted 5K product samples in 4 hours.
Old Spice
Old Spice uses Chirpify to sample products directly through social media.
Earned Media

News of the deal spread online and then to Facebook, with thousands of Tweets using the branded actiontags

Viral

The campaign propelled content across feeds, and across channels, enabling organic content to spread like wildfire.

Trending

The campaign hashtag #StressStinks then became a national Twitter Trending Topic.

Volume

5,000 products were claimed within 4 hours.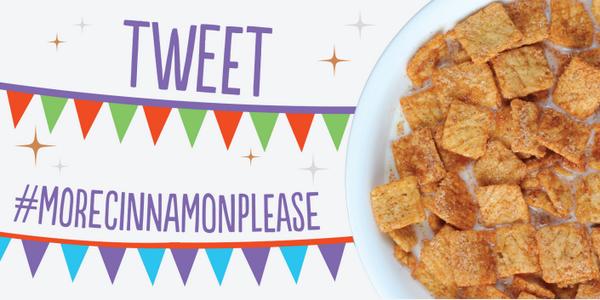 General Mills
General Mills uses Chirpify to sample cereal & drive social loyalty.
Earned Media

Earned 2.3k retweets on a single Tweet.

Followers

Increased follower count by 12%.

Volume

Sampled 30,000 packages of cereal in 8 hours.
Why Social Sampling?
Simple. It's a better way to sample.
MORE QUALIFIED
We gather social & customer profile info – allowing you to put product in the hands of consumers who are most likely to have a great experience
MORE AMPLIFIED
Every time a consumer uses an activated #hashtag they are sharing it with their friends – driving Social Discovery and creating Earned Media
MORE COST EFFECTIVE
Chirpify's messaging & form live directly "in social" – making for high conversion rates, without needing a separate microsite / landing page
Measuring ROI
Chirpify analytics measures ROI and delivers pretty reports
OMNI-CHANNEL
Measure and download reports on omni-channel participation and member acquisition
360° PROFILE DATA
Overlay social data on top of membership data for segmentation and retargeting
CONVERSION
Measure and download reports on conversion by channel, location and segments
SOCIAL ENGAGEMENT
Measure increased social engagement as consumers use social as the remote control
Services
We're not just a platform, we're domain experts that ensure success
DISCOVERY
Our services team works with you to define triggers, responses and create your program
CAMPAIGNS
A dedicated account rep will help you plan and launch campaigns to drive participation
REPORTING
Our services team measures program performance, metrics, and delivers beautiful reports
DOMAIN EXPERTISE
Our services team has been leveraging social for marketing conversion for years