At Chirpify, we've engaged with hundreds of brands and agencies on their social activation campaigns, enabling more than a million consumers to respond directly to these and other brands' products, content and promotions via social channels. As social media marketing as a discipline has matured and consumers themselves have evolved in their use of social media, at Chirpify we've seen a clear trend that the true value of social is moving to always-on and contextual interactions vs. campaigns.
To drive real customer advocacy and lifetime value, an ongoing program is what is really needed. It's difficult to develop customer relationships when you simply reach out once in a while; it's hard to imagine a customer would feel connected or loyal to your brand if they only heard from you once in a long while. 
We've heard form our clients who have activated consumers and collected data and want more from those loyal participants.
How can you keep consumers brand loyal?
By nurturing & rewarding loyal consumers for their actions on social, brands are able to develop deeper advocacy, reach and loyalty because they serve to establish and build upon a customer relationship.  Ongoing programs can look like Social Loyalty, Brand Ambassador, and/or VIP Clubs, all of which have proven extremely valuable for our clients.
How do we fit in?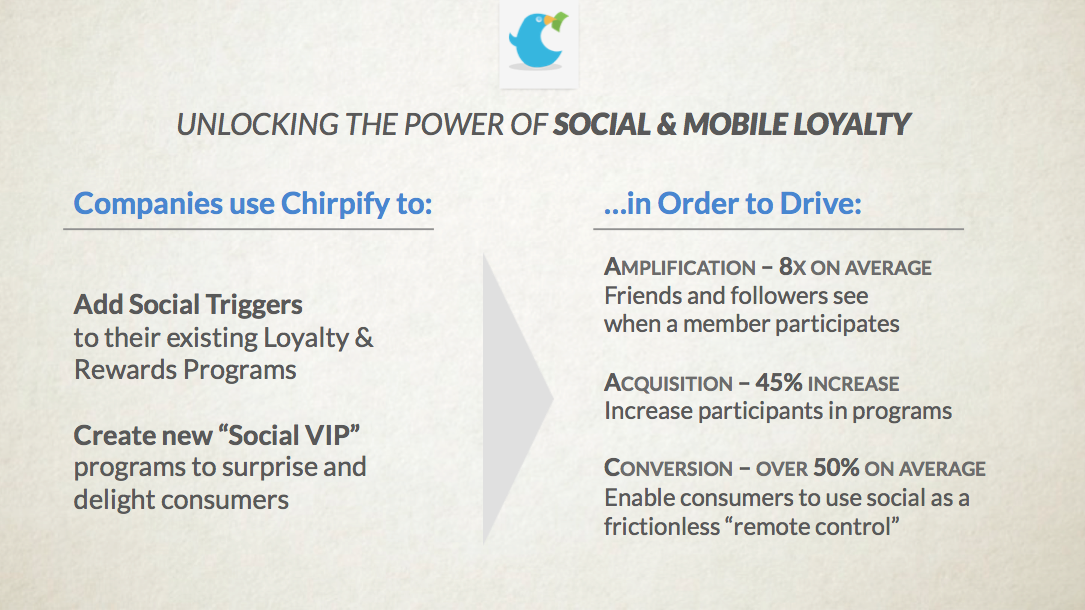 We are already working with brands like Guess, Pantene and Darden Restaurants to unlock the opportunities in this space. If you are interested in building deeper customer relationships and maximizing lifetime customer value, let's chat